JON ROSEMAN

Jon Roseman was one of the early music video producers and directors. Rolling Stone described him as 'the godfather of the music video.' He produced the classic Queen Bohemian Rhapsody video and has worked with, Rod Stewart, The Rolling Stones, Bob Dylan, Michael Jackson, the Eurythmics (on their first 12 videos) Paul McCartney, Neil Diamond and many, many more.
For over thirty years he worked as a television agent for some of the best known faces on British television including: Jonathan Dimbleby, Roger Cook, the late Jill Dando, Nick Ross, Natasha Kaplinsky, Anne Diamond and Fern Britton. Richard Kay of the Daily Mail described him as British TV's 'uber' agent.
His autobiography "From Here To Obscurity" published in 2010 was serialised in three parts by the Daily Mail.
He is an accomplished after dinner speaker. Always funny, often wry and full of stories of the famous people he has worked with including Richard Branson, David Frost, Michael Portello and a host of others who he has either crossed paths with or, on many occasions crossed swords with!
He has been a guest on many radio and TV shows talking about the TV business and is a regular contributor to the Daily Mail. One of his recent pieces in The Daily Mail on Holly Willoughby received more online traffic than any other celebrity piece.
He calls it as he sees it, often controversial always funny and one of the most knowledgeable people currently observing the TV industry.
As he's written: 'Most people working in TV should not be allowed to own a television let alone appear on it.'
He more than most people is aware of the vagaries of the nature of the business. Who else would say of his life in broadcasting: 'If you turned around quickly enough you get stabbed in the front!'
* DIRECTOR
* WRITER
* AFTER DINNER SPEAKER
* CONSULTANT
---
STOP PRESS
TO PURCHASE JON'S BOOK PLEASE CONTACT - info@thetalentagencyltd.co.uk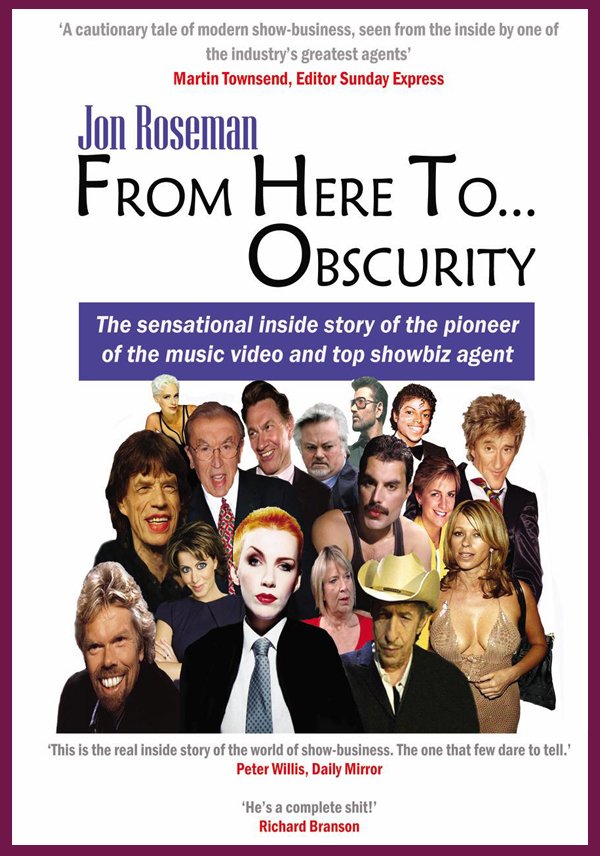 For All enquiries Email
info@thetalentagencyltd.co.uk

Tel: No.....00 44 (0)1483 281500