THE OFFICIAL ENGLAND BRASS BAND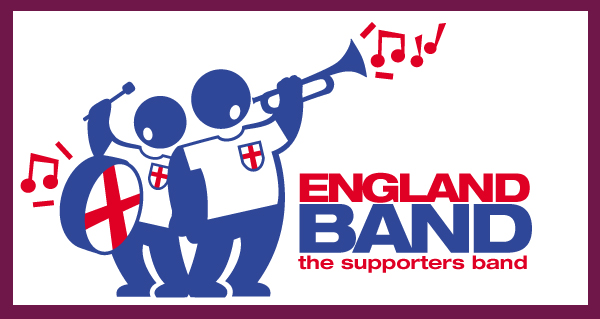 This is the band you hear at every England football game! Inspiring fans to get behind their team the band have travelled all over the world following the national side. Varying in numbers according to performance requirements, the outfit is fronted by Leader and MD, John Hemmingham and includes comedian Bernie Clifton.
The band was formed in 1993 at Sheffield Wednesday FC with the help of the chairman Sir David Richards. Three years later they were recruited for England by Glenn Hoddle and David Davis and have not missed a game home or away since.
The band are also to be seen supporting the national side in many other sports. They were present at the England Rugby Union 1999 World Cup, have attended Twickenham at least 10 times for the England Rugby Sevens, were present supporting GB hockey team in Beijing in 2008 Olympics and in London in 2012. They have played for the GB volleyball team and were asked to perform at the World's Best Cooking Competition 2013 in France !!
Boxer Ricky Hatton has insisted that the band be with him when he fights in Las Vegas. - 5 times to date – and they have attended most of the title fights in the UK, where a British boxer is involved.
Apart from appearances, the band have had various records releases over the years. These include, but are not limited to, being signed by Richard Branson, releasing singles for various Euro competitions, appearing and playing on the Ant & Dec single for the Japan World Cup 2002, "We're on the Ball" and numerous album releases around World Cup dates.
Television appearances are many, too many in fact to fully list. They range from numerous appearances on soccer AM and breakfast TV, a Cutting Edge documentary, Breakfast TV (both channels) news programs and a documentary for the Foreign Office prior to the Ukraine visit for Euro 2012. An interesting fact to note is that after their involvement in Euro 2012, the band received 600,000 hits in two hours on their story on the BBC website !
They have been hired by many corporate companies to perform gigs and attend events. Just some of the many clients include... Pepsi, Coca-Cola, Tango, Whitbread, fosters, Carlsberg, Honda, Vauxhall, Ford, Texaco, Pukka Pies, Emirates, The Sun, British Council, nuclear, William Hill, Bet Fred and Investech.
All in all, the guys are great fun bunch of people and bring smiles to the faces of England fans what ever the sport. They are known for generating an atmosphere anywhere and at any time. Last word from Leader John, ". There is a phrase that we use – the man on the terrace is not Pavarotti, nor are we the Halle Orchestra" !!
For All enquiries Email
info@thetalentagencyltd.co.uk

Tel: No.....00 44 (0)1483 281500